Nurses lent to Stafford Hospital to ease staffing problems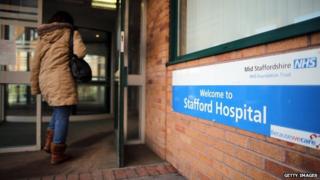 Stafford Hospital has been lent 20 senior nurses by the University Hospital of North Staffordshire to ease staffing pressures.
In addition, 15 beds specifically for patients from Stafford have been set aside by the Royal Wolverhampton Hospitals NHS Trust.
The announcements were made at a public meeting at the hospital earlier.
It heard staffing had been so stretched that bosses had asked the military about borrowing doctors and nurses.
Speaking after the meeting, Sue Hawkins, chair of the Support Stafford campaign said: "I think it can only be good news.
"We came here today thinking there would be reduced hours, maybe there would be closures and in fact we have not heard that... there's big uncertainty over the hospital and hopefully that's going to be resolved next week by the secretary of state."
Secretary of State for Health Jeremy Hunt is expected to announce by next Wednesday whether the Mid Staffordshire NHS Trust will be dissolved.