Victorian library 'should not be moved by council'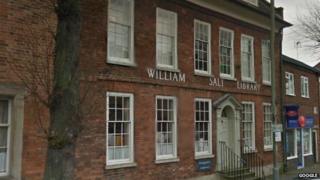 Campaigners are fighting plans to relocate a Victorian research library from the building where it has been based for nearly a century.
The Friends of the William Salt Library in Stafford say they are worried the collection's identity will be lost if it is moved into the Staffordshire Record Office.
Staffordshire County Council's cabinet approved the plans earlier.
A representative said the proposals would improve access to the collection.
The council estimates it pays about £75,000 a year to maintain the building, on Eastgate Street.
It wants to move the collection, which was built up during the lifetime of William Salt, a Victorian banker, into a £4.5m extension to the record office.
It hopes to apply for Heritage Lottery funding to carry out the project.
The library is administered by an independent trust. The chairman said it supported the plans.
However, Mary Dodkins, secretary of the Friends of William Salt, which helps preserve the collection and the building, said the collection has been housed in its current base since 1919.
"We began to hear mutterings about the removal of the collection in 2012 but the friends were not consulted. It's an absolutely beautiful building but the council hasn't kept it in very good repair," she said.
"The collection does need to be moved somewhere because the conditions in the current building are not good for it, but we have alternative plans and are in talks with the trustees.
"We are very concerned the identity of the collection will be lost in the record office."
However, John Giffard, chair of the William Salt Library Trust said: "We are fully behind the proposals.
"The new site will include purpose-built rooms to provide the correct environmental conditions, and a modern automatic fire extinguisher system. The trust will be working with the county council to ensure that the library retains its own identity within the new facility."
County councillor Mike Lawrence added: "These exciting proposals will help protect the collections for many years to come."