City Sentral retail planning permission expires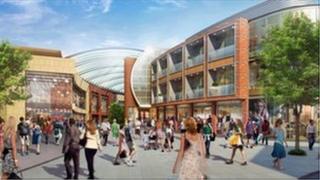 Planning permission for a huge retail development in Stoke-on-Trent has expired.
The developers of City Sentral shopping centre were given approval in February 2011 for a 650,000 sq ft (15 acre) site in Hanley, which ran for three years.
An independent study is looking at the "future retail needs of the site" after MP Tristram Hunt said in December the plans were likely to be scaled back.
Developers said the economic situation has "changed dramatically".
Realis Estates Managing Director Duncan Mathieson said: "It's not unusual to revise and renew schemes and we will be bringing forward our new proposals for planning submission soon.
"They will meet the needs of the changing face of the city, and the new economic realities of a commercial world emerging from the recession, and the new dynamic that is driving the city forward."