Tree falls on to lorry on M6 motorway in Staffordshire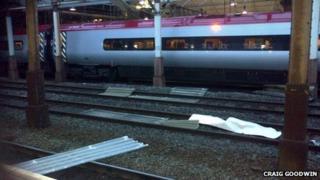 A tree has fallen on to a lorry on the M6 in Staffordshire during high winds.
It happened at about 15:45 GMT on the northbound carriageway between junction 15 for Stoke-on-Trent South and 16 for Stoke-on-Trent North.
A second lorry and a recovery vehicle also crashed as a result of the high winds, the ambulance service said. No-one was injured in either incident.
Two lanes of the carriageway were closed to remove the tree, Central Motorway Police said.
Western Power Distribution (WPD) said more than 11,000 homes in Stoke-on-Trent and Staffordshire were without power.
It said engineers were working to fix the problems but some customers' power could be off all night.
Mark Shaw from WPD said: "It's proving very difficult, we're dealing with falling trees in some places and clearly we can't go into some areas because of the weather conditions.
"We have to put the safety of our staff first but as soon as it is safe to do so we will re-erect the lines and get the power back on."
'Debris floating around'
Crewe rail station was evacuated at about 17:00 due to damage to its roof and falling debris.
There was also a small fire in the building caused by falling overhead power lines but that had been put out, station manager Sheila Breeze said.
She said: "Everybody got out safely to the Crewe Arms hotel opposite...there's still debris floating around on the platforms.
"We've got no power to the overhead lines because of safety reasons."
Trains were able to run through the station but could not stop there. The site was partially reopened at around 19:00 with limited trains to London stopping.
Elsewhere, a school has been closed because its sports hall roof has blown off.
Carl Ward, the headteacher at Haywood Academy in Burslem, said "It's currently extremely dangerous in the surrounding area and the police have closed the road to traffic.
"Because of the health and safety risk to students and staff I have had to close the school tomorrow."
Rail services were disrupted between Stafford and Alsager after a tree hit overhead wires at Norton Bridge at about 14:00, Network Rail said.
The tree was cleared and services returned to normal about three hours later, it said.
Police said the A500 in Etruria was closed between the A53 and A52 because of an "unsafe building".
It said a number of roads had also been blocked because of fallen trees including the A531 Main Road in Madeley and the A34 Stafford Road in Bloxwich.