Students voice concerns over Beaconside campus closure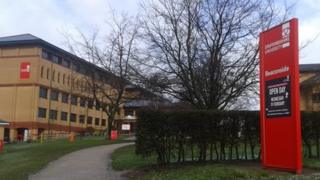 Students at Staffordshire University say they have not been given enough information about a decision to close the Beaconside campus.
Almost 3,000 computing and entertainment technology students will be moved from the Stafford site to Stoke-on-Trent by 2016.
Some students told the BBC they were worried that the move would be disruptive.
But others said they trusted the university to make the right decision.
Those who started in September and those joining the university this year will be affected by the move.
Vice-Chancellor Prof Michael Gunn said while most students were against the closure, the savings made would "improve the student experience".
Maintaining two separate campuses costs £3m to £4m a year, he said.
Several students were unsure whether they would be affected by the move, with some unhappy about moving to a more urban environment.
Second year web programming undergraduate Stuart Godfrey said he would be "pretty devastated" to leave the Beaconside campus.
"I came here because it's rural, it's quiet and it's peaceful," he said.
Some said they would not have applied to the university if their courses had been originally based in Stoke.
Accommodation concerns
Connor Reilly, a second year IT student, said the plans felt "rushed". "I don't feel like we've had much information really," he said.
But others were less worried.
Software engineering student Shane Hulligan said he would not mind spending his final year in Stoke.
"If the degree is going to stay the same and the teaching capability is going to stay the same, then it's not going to bother me too much at all," he said.
A common worry among students was the availability of housing. Prof Gunn said the university was looking into existing options, and the university could build its own housing if necessary.
He said the university was doing all it could to ease students' "understandable" concerns, and that there would be no loss of technological facilities at the Stoke site.
Students' Union President Rochelle Owusu-Antwi has said the union "understands and respects" the board of governors' decision, but would be "scrutinising" the move as it progressed.