Stafford Hospital may be renamed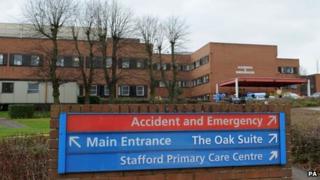 The NHS trust due to take control of Stafford Hospital says it is considering changing its name.
The trust which runs the University Hospital of North Staffordshire (UHNS), based in Stoke-on-Trent, said the idea was discussed by its board on Friday.
It is considering changing the names of both hospitals and its own name.
A former doctor with the trust said the name "Staffordshire" had become associated with scandal-hit Stafford Hospital.
Alun Davies, who worked for North Staffordshire hospitals for 20 years, said: "There is no doubt that worldwide the name of Staffordshire is linked with Stafford Hospital.
"If you are a young doctor looking for a job, you may pass over Staffordshire and look for somewhere that doesn't have this connotation."
In December, administrators said the Mid Staffordshire NHS Trust, which ran Stafford Hospital but was hit by a series of scandals about poor care between 2005 and 2009, would be dissolved.
The Secretary of State for Health Jeremy Hunt is expected to make an announcement about the hospital later this month.
UHNS said it would not comment further until a decision was made about the future of Stafford Hospital.
Mr Davies added: "It's very difficult to differentiate between North Staffordshire and Mid Staffordshire. I think people from outside the area would have difficulty in recognising these two entities."
At present, there is no indication of what the new names would be.