'Final' applications to buy £1 houses in Stoke-on-Trent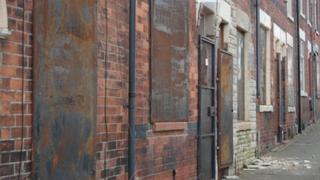 People in Stoke-on-Trent have a "final opportunity" to buy a house for £1, the city council has announced.
The scheme, launched in 2012, was designed to regenerate 33 derelict homes in the Cobridge area.
It sees the council offering loans of about £30,000 to renovate each house, if buyers commit to living in the property for at least five years.
Nine of the terraced homes remain available, with applications open until 31 May.
The Cobridge scheme is part of a £3m programme to bring 124 empty properties back into use and "revitalise the surrounding neighbourhoods", the council said.
Councillor Ruth Rosenau said: "Our work on these homes around Portland Street illustrates our determination to breathe new life into these communities and help residents to take greater control over shaping their neighbourhoods' futures."
To be eligible for a £1 house, buyers had to meet minimum criteria, including having lived in the city for the past three years.
This has since been relaxed to allow applications from people who have lived in Stoke for at least the last 12 months.
"This is particularly important for forces personnel," the council said.
Work is currently under way on the buildings to make sure they are safe for habitation, with the first residents expected to move in during the spring.