Stafford Hospital nurse shortage could reduce A&E hours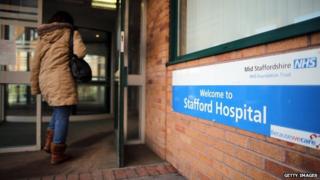 Stafford Hospital's Accident and Emergency department opening hours could be reduced, it has been warned.
Managers for the Mid Staffordshire NHS Trust said a cut was being considered to ensure safe levels of care amid nurse shortages.
The hospital was taken over by administrators in April 2013 after an inquiry into its higher-than-expected death rate between 2005 and 2008.
It has struggled to recruit staff and its A&E is already closed overnight.
The casualty department introduced a temporary closure from 22:00 to 08:00 GMT in December 2011 and has remained closed at night since.
Maggie Oldham, chief executive of the trust, said Stafford Hospital had "failed to recruit the number of nurses required" because of its past problems and uncertainty about its future.
A decision is due on proposals for the hospital to be managed by University Hospital of North Staffordshire, along with a downgrading of its maternity, paediatric and critical care services.
'A great day'
From April nurse safe staff levels will have to be monitored and published, in a national system introduced by the government in response to the Stafford Hospital scandal.
"We started on a lower staffing level and some of our nurses [that left] got tired of working with lots of agency nurses," Mrs Oldham added.
"Over the winter period this has been difficult to manage."
Conservative MP Jeremy Lefroy, said: "We need to A&E to be open... I'd like to see it back open 24-7." He added that talk of further reductions was "very concerning".
By 26 February the secretary of state will announce whether the Mid Staffordshire NHS Trust will be dissolved, which would mean Stafford Hospital and its A&E being taken over by the University Hospital of North Staffordshire.
Mrs Oldham said: "That will be a great day for the majority of our staff, it will give them the security they've been asking for... we'll be able to advertise and say with some certainty what our future looks like."