Ex-Stoke City trainee can bring assault claim against club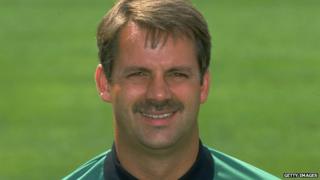 A former Stoke City trainee can proceed with claims for damages "potentially worth millions" against the club and an ex-player, a court has ruled.
George Blackstock, now 43, has alleged he was assaulted by ex-goalkeeper Peter Fox at Stoke's old Victoria Ground.
Judge Philip Butler ruled a claim against Mr Fox relating to the alleged assault could proceed to trial.
He also allowed a "vicarious liability" claim against the club for failing to prevent it.
A third claim, alleging negligence against the club, was dismissed.
'No findings of fact'
Judge Butler told the court he had not made "any findings of fact as to whether what's alleged occurred or not" in deciding the case should be allowed to proceed.
Barrister Nicholas Fewtrell, representing Stoke City, told Preston County Court the claim against the club could be worth "hundreds and thousands if not millions of pounds, or it may not be a claim at all."
Mr Fox, who played nearly 500 games for Stoke between 1978 and 1993 and is now 56, said he could not comment.
The claims refer to alleged incidents Mr Blackstock said took place when he was aged 16 or 17.
'Safety and protection'
The claims have previously been investigated by Staffordshire Police who, along with the Crown Prosecution Service, decided not to launch a prosecution.
A trial, lasting three to five days, is expected to take place next year.
In a statement, the club said: "The police conducted investigations into allegations against former players in 2008.
"The club co-operated fully with those investigations. The club understands that no charges were brought against any of the individuals involved, all of whom left the club over 20 years ago.
"The club can give absolute reassurance that it is fully committed to the safety and protection of individuals at the club and has robust safeguarding policies in place which are frequently reviewed and updated.
"Whilst this matter remains the subject of legal proceedings it is not possible, or appropriate, for the club to make any further comment at this time."