Marston's Brewery opens £7m bottling plant in Burton-upon-Trent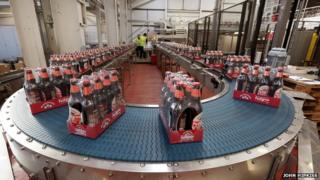 Pub chain and brewer Marston's has opened a new £7.4m bottling plant at its brewery in Staffordshire.
The facility at Shobnall Road in Burton-upon-Trent has taken six months to build, and processes more than 18,000 bottles per hour, the firm said.
It said the plant, which also includes a large storage facility, had created 17 new jobs.
The company reported full-year pre-tax profits of £69.8m in October, which compared with a £135.5m loss in 2012.
It sold 202 pubs to NewRiver Retail for £90m in November as part of a plan to invest in "higher turnover pub-restaurants", rather than smaller drinks-only pubs.