Biddulph new burial ground to be consecrated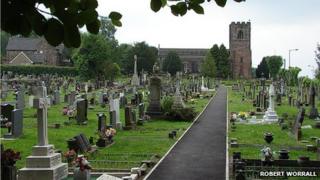 With just one year's worth of burial spaces remaining in a Staffordshire town's cemetery, a new ground will be consecrated this summer, Biddulph town council has said.
Town clerk Kate Thacker said she was "thrilled" about the progress of the site next to St Lawrence's Church.
It has taken 15 years to acquire the ground, which is a former school sports pitch, and sort out legal issues.
Now the site, on Woodhouse Lane, has been cleared and plots laid out.
It is estimated it will serve the town for at least the next 30 years.