Kevin Nunes murder case: Officers 'will not be charged'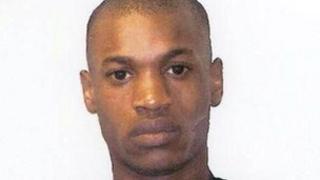 The Crown Prosecution Service (CPS) has said there is insufficient evidence to charge five serving or former police officers over their roles in a murder investigation.
Kevin Nunes was shot dead in Staffordshire in September 2002.
Five men jailed for murder were freed on appeal after it emerged concerns over the credibility of witnesses were not disclosed to the defence.
The CPS said a decision in relation to a sixth officer would be made later.
Police believe Mr Nunes was a drug dealer who was shot in an execution-style killing in Pattingham after straying into another gang's territory.
Five men from the West Midlands jailed in 2008 were released after an appeal hearing in March 2012, prompting an investigation into the police's handling of a key witness and how disclosure was dealt with afterwards.
The officers investigated go up to the rank of Detective Chief Inspector, although three of the five have since retired, the Independent Police Complaints Commission (IPCC) said.
'Hearsay evidence'
The CPS said it concerned allegations that officers dealing with a protected witness and their immediate superiors had perverted the course of justice by failing to record and report that the witness had potentially stolen a sum of money.
Simon Orme, a specialist lawyer from the CPS, said: "To prove an offence of perverting the course of justice the prosecution would need to demonstrate that the failure to document the potential theft was a deliberate act intended to pervert the course of justice.
"The only evidence to support the allegation that the five officers conspired together to pervert the course of justice by collectively agreeing to omit details of alleged theft is statements allegedly made by one officer to another.
"I have determined that these would not be admissible as hearsay evidence and there is no other evidence to support the allegations."
The IPCC, which carried out the initial investigation, said it would be submitting files to the CPS on nine further officers.
The nine are believed to include four senior officers still serving with forces, including:
Gloucestershire Chief Constable Suzette Davenport
Northamptonshire Chief Constable Adrian Lee
Staffordshire Deputy Chief Constable Jane Sawyers
West Midlands Assistant Chief Constable Marcus Beale
Another four of the nine are retired from Staffordshire Police, the IPCC said.
Regardless of the CPS's decision, officers could still face misconduct proceedings, the IPCC said, although it added that a decision would be taken after the CPS had concluded its investigations.