Kidsgrove and Codsall day care centres to close down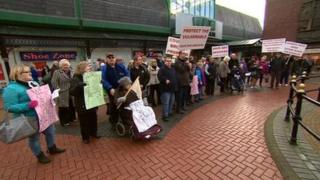 Two specialist centres for people with learning disabilities in Staffordshire are to close.
Plans to shut day centres in Kidsgrove and Codsall and downsize one in Leek were approved by Staffordshire County Council on Wednesday.
The authority said it was part of moves to actively improve quality of care.
Campaigners said the council had ignored their opinions after it was revealed 70% of people consulted by the council were against the plans.
Graham Brown, whose son uses Kidsgrove Day Centre, said: "They've overruled this consultation, carers and service users have all said that we don't want any change but yet they've gone completely against their own research."
'Not about money'
The Labour group's spokesperson on care, Councillor Charlotte Atkins, said she was "shocked" by the decision.
"Of course difficult choices have to be made but the council have not provided any evidence that this move will lead to better care for people," she said.
The Conservative-run council said about 450 service users would be assessed for their needs over the coming month.
It said about 140 people with the most complex needs would continue to receive day care in council buildings, including Marsh Court in Stafford.
Cabinet Member for Care, Councillor Alan White, said: "This is definitely not about saving money.
"There will be a net investment in the service, we will be refurbishing buildings and improving facilities for profoundly disabled people."