Protests over Staffordshire day centre closures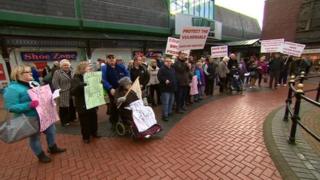 More than 100 people have protested against plans to close specialist centres for people with learning disabilities in Staffordshire.
Under council plans, day centres in Kidsgrove and Codsall are due to close, with one in Leek being downsized.
About 80 people joined a protest in Cannock, with more campaigners protesting in Newcastle-under-Lyme.
Staffordshire County Council is expected to make a final decision on the proposals on Wednesday.
The local authority said the plans were part of measures designed to improve the quality of care.
As part of the changes it said new centres would be built for those with the most complex needs, while a series of support packages would be funded for many others.
Strength of feeling
Staffordshire County Council said all those currently attending centres would be assessed over the coming months.
The changes are expected to affect about 450 people.
Campaigners say the proposals will remove essential care from about 70% of those currently attending day centres.
Dave Bailey, whose 46-year-old son Stuart attends the centre in Cannock, said the number of people who turned out to protest against the plans showed the strength of feeling.