Kidsgrove and Codsall day centres set to close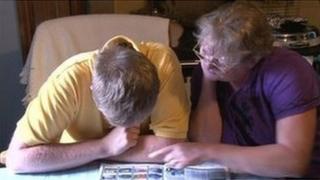 Two care centres for people with learning disabilities are set to close in Staffordshire.
The local authority currently spends about £8.5m on the service at eight centres across Staffordshire.
Under the plans, which go before the cabinet on 15 January, centres in Kidsgrove and Codsall will close, while one in Leek will be downsized.
The council said it was part of measures designed to improve the quality of care.
As part of the changes it said new centres would be built for those with the most complex needs, while a series of support packages would be funded for many others.
These packages are expected to include support for education, employment and day activities within the community.
Staffordshire County Council said many people were already making use of better support in the community, with 200 fewer people using the centres than two years ago.
'Change of life'
Pauline Hall, whose son Daniel goes to the Leek centre, said the figures suggested that most those who were still using the centres needed to be there.
She said the centres provided a vital service to local families and much would depend on the council's assessment process, but she hoped many of the clients would be allowed to stay if they wanted.
"Some of them have been at the centres for more than 40 years. That's a long time for someone with learning disabilities to then have a change of life," Mrs Hall said.
"I'm concerned because I don't know whether my son will be allowed to stay."
The changes will affect some 450 people, who are due to be assessed for their needs over the coming months.
Councillor Alan White, cabinet member for care, said: "It is about offering people choices and flexibility, focusing on what people can achieve with the right support and absolutely where possible making sure this is as valued active members of our community.
"Over the years we have seen more and people with learning disabilities look to find jobs or voluntary work and they have really blossomed in the community, which is something we want for as many as people as possible."