Legal threat in Staffordshire day centre closure review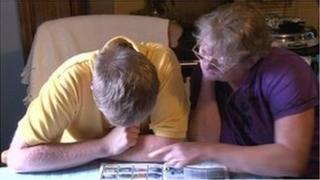 Protesters have threatened legal action over a review of day centres for people with learning disabilities in Staffordshie.
Lawyers have written to Staffordshire County Council stating concern that insufficient detail on alternative services had been provided.
The council is considering responses to a three-month consultation on its day centre provision that ended last month.
It disputes the claim and said it "went the extra mile" with its consultation.
Staffordshire County Council runs a total of eight main centres in each of its districts in addition to some smaller-scale centres, some of which are in rented premises.
It said people "with the most profound needs" will always been supported but has warned some day centres are likely to close following the review.
Dave Convey, whose son uses the Kidsgrove Day Service, said: "The specialist solicitors we've instructed find it stark how little detail there is about what would follow in the devastation of the closure of these services."
'Pleased and surprised'
Daniel Mazliah, from disability charity Scope, said those affected were right to question whether the council's "slightly vague plans" would provide adequate support.
"Day centres can be so important in the lives of disabled people. They offer social life, opportunities to learn skills and provide respite for the families too," he said.
Councillor Alan White, the cabinet member in charge of care at Staffordshire County Council, said he was "pleased and surprised by the extent of the responses" to the consultation.
He said: "I'm confident the consultation process we undertook was correct and we went the extra mile.
"People going out into the community who have learning disabilities find life is much better for them rather than going to the same old building day in, day out," he added.
Campaigners have started a petition and held a number of protests outside the day centres.
The council will make a decision on the future of the centres by March 2014.