Stafford Hospital NHS trust to be dissolved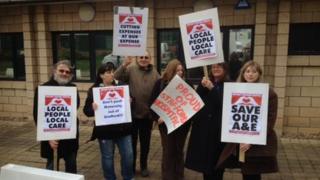 The trust that runs the scandal-hit Stafford Hospital is to be dissolved.
The Mid Staffordshire NHS Trust has been in administration since April when services were deemed "unsustainable" by the health watchdog Monitor.
The Trust Special Administrators' (TSA) final recommendations have been published in its report.
Control of Stafford Hospital will go to University Hospital of North Staffordshire and Cannock Hospital will be run by Royal Wolverhampton Trust.
Under the recommendations, maternity services at Stafford Hospital will be downgraded rather than closed.
A new midwife-led maternity unit will be created that will be capable of delivering half the number of babies. More difficult births will be dealt with at University Hospital of North Staffordshire.
Paediatric assessment will still take place at the hospital by specialist staff, in conjunction with A&E, and critical patients will be allowed to stay overnight in Stafford as long as the appropriate staff are on duty.
The administrators said the retention of extra services would mean a greater deficit than would have been the case in the draft report released in July.
The trust has made significant improvements over the past two to three years and is currently clinically safe but "highly fragile", the TSA said.
It is thought Cannock and Stafford hospitals will have been taken over by autumn next year, BBC reporter Phil Mackie said.
The health watchdog Monitor has 20 working days from Tuesday, 17 December to consider the final report.
If approved, it will be passed to the secretary of state who will have a period of 30 working days to announce his final decision.
It would take three years, from the secretary of state's agreement, to implement proposed changes at a total cost of £220m.
The Mid Staffordshire NHS Trust provides healthcare for people in Stafford, Cannock, Rugeley and the surrounding areas, covering a total population of about 275,000 people.
'Massive fudge'
Trust special administrator Alan Bloom said the trust's current deficit was £20m a year and if nothing was done, that deficit would have risen to £40m a year.
Mr Bloom said: "We now have a plan for the future where 90% of patients that currently use Cannock and Stafford hospitals will continue to do so."
Cheryl Porter, from the Support Stafford Hospital campaign group, said she was "not shocked" by the recommendation, which she described as "a massive fudge".
She said: "The deficit has still not been brought down and the hard work of staff has been ignored."
Stafford Conservative MP Jeremy Lefroy said he was meeting the Secretary of State for Health, Jeremy Hunt, later on Wednesday.
He said: "I have real concerns about children's services and paediatrics.
"We need 24/7 cover to take in all ill children - the most ill would still go to Stoke and Birmingham, but Stafford needs to be able to take children to assess them and keep them overnight if needed."
Although it is not within their power, the administrators agreed Stafford Hospital ought to be renamed.
The Royal College of Midwives welcomed the TSAs' inclusion of a new recommendation for a midwife-led maternity unit at Stafford in its final report.