Stoke-on-Trent MP says city's retail plans are likely to be scaled back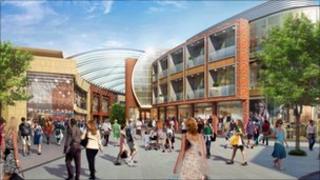 Plans to build a multimillion pound leisure and retail scheme in Stoke-on-Trent are likely to be scaled back, one of the city's MPs says.
A department store, shops, cafes and restaurants, a cinema, a hotel and parking is planned for 2015 but major construction work has not yet started.
An independent study is now taking place looking at the "future retail needs of the site".
MP Tristram Hunt said he felt the original plans would change.
The project has planning permission to transform the East West Centre in Hanley, the vacant former bus station site in the city centre.
'Need credible plan'
Developer Realis Estates met council officials on Thursday to discuss the scheme.
Mohammed Pervez, leader of the authority, said the talks were "positive" and officials were looking forward to Realis "bringing more details of the scheme forward next year".
But Mr Hunt, a Labour MP, said more details were needed from the developer and those involved "need to be realistic about what we can achieve and then get on with it".
Speaking to BBC Radio Stoke he said: "Now what it seems to me we need is some honesty and transparency about what could potentially happen with this site....
"What would be good is to hear from Realis itself - come out, up front, say what its plans are. I think we're all realistic now about what can and can't be delivered but it would be good to have some transparency from them."
When asked whether he thought the site would be redeveloped at all within five years, he said: "Yes, absolutely and it'll be completely unacceptable not to have something there.
"But I certainly don't think it'll be the original scheme."