Wedgwood Big House water damaged by 'raised pavement'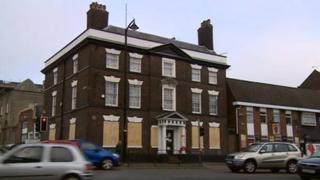 The owners of a Georgian townhouse in Stoke-on-Trent claim it is falling into disrepair from water damage caused by council alterations to a pavement.
The Big House in Burslem was built by the Wedgwood family in 1751.
The owners claim rainwater is running into the house from a raised pavement which has ruined floorboards and caused structural damage.
Stoke-on-Trent City Council said it could not comment because the building was subject to an insurance claim.
Martin Reilly, who is managing the Grade II listed building, said the pavement had been raised about 2ft (60cms) during council maintenance.
'Massive crack'
He said plans to turn the building into a ceramics art studio and gallery had been put on hold because of the water damage.
"Mortar from the bricks has been washed away, the rear corner has turned and sunk and there's a massive crack that has formed at the side of it," he said.
"Unless urgent action is taken the Big House will be lost and when historic buildings like this are lost, they're lost forever."
Mr Reilly said an independent surveyors report had concluded the cause of the problem was the high pavement and an insurance claim had been filed.
A council spokesman said: "We will be asking Mr Reilly to meet with us at some point next week so we can go over the matter in detail.
"As the insurance claim is an ongoing issue, we are unable to comment any further at this stage."
The building has been empty for two years.