Norton Bridge railway work to finish early, say Network Rail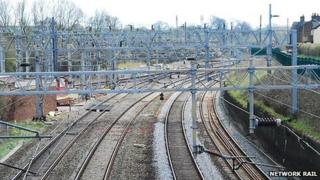 Work on a £250m scheme to speed train journey times through Staffordshire could finish a year earlier than planned, Network Rail has said.
The company said it was installing new signals on the West Coast Main Line between Norton Bridge and Crewe.
Plans to build a new flyover at Norton Bridge are still subject to the outcome of a public inquiry.
Nigel Barber from Network Rail said: "We are pushing to bring the works' end forward from December 2017 to 2016."
The first stage of work, which began in April, aims to increase train speeds on 23 miles (37km) of track between Norton Bridge and Crewe from 75mph to 100mph.
'Major bottleneck'
Network Rail said if planning permission was given to build the flyover at Norton Bridge, work on that would begin in April 2014.
Mr Barber said: "We've got an issue with capacity now on the West Coast Main Line, it's the busiest rail artery in the UK.
"This work removes a major bottleneck on that route to make it better for passengers and train operators."
Network Rail said following the work it would be able to put on two extra trains every hour in each direction between London and the North West.
That would include one additional train hourly both ways between Manchester and Birmingham, via Stone, and a further freight train every hour each way through Stafford, it said.