Stoke-on-Trent Moroccan market cancelled after 'visa problems'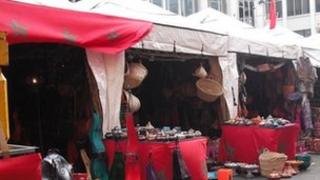 A Moroccan market in Stoke-on-Trent has been cancelled because of problems with traders' visas, the city council has said.
Forty stalls were due to be in Hanley for three weeks to try to boost trade.
But Stoke-on-Trent City Council said the market operator, which it has been liaising with since June, had cancelled due to an "unforeseen" problem in the issuing of visas.
It said similar markets in Peterborough and Leeds had also been cancelled.
'Disappointment and frustration'
Councillor Adrian Knapper, cabinet member for health and wellbeing, said: "We're as disappointed as we know our residents and businesses will be that the market operator has chosen to cancel the event at this late stage.
"The traders were due to run three simultaneous markets in Stoke-on-Trent, Peterborough - where the council had invited them back after the success of last year - and Leeds, so we're not alone in our disappointment and frustration."
The market which sells ceramics, rugs and clothes was due to open in Hanley on Wednesday and run until 30 December.
Mr Knapper said the council had planned two late-night shopping events in the city centre to compensate for the loss.