Dog fouling: Stafford Borough Council £75 reward for information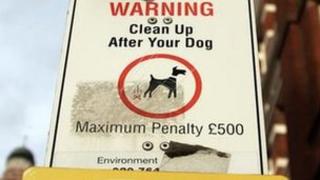 People who report dog walkers who do not clean up after their pets are to be given a £75 reward if a fine is issued by council wardens.
Stafford Borough Council said it was offering the rewards because offences "were proving very difficult to stop".
It said it had fined only six people for dog-fouling in the past year despite patrols in problem areas.
Civil liberties groups have said the idea "gave people an incentive to snoop on others."
Will Conaghan from the council said it was "not bribing people to snitch" on dog walkers.
"People in the past have rung in with information about this. What we're saying is we need more information and we're giving people an incentive to do that," he said.
"At Stafford Borough we have limited resources and this has proved a difficult [offence] for us to stamp out."
'Absurd situation'
Keep Britain Tidy said the problem of dog fouling costs councils across the UK about £22m a year in cleaning bills.
Andy Walker from the group said: "In these cash-strapped times it is an issue that the council is forced to spend on things like this.
"The council have tried awareness campaigns but where that isn't getting the message across, sometimes people need a little prod."
Nick Pickles from civil liberty group Big Brother Watch said: "This scheme risks becoming paying people to snoop.
"My real worry is that the council need evidence to enforce fines so you could get an absurd situation where people are using cameras to take pictures of their neighbours walking their dogs."