City freedom for Stoke City FC and Queen's Royal Lancers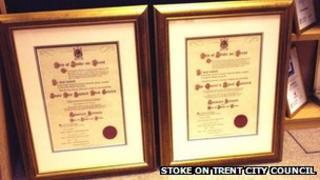 Stoke City Football Club and the Queen's Royal Lancers will be given the Freedom of the City in a ceremony watched by 20,000 people later.
The ceremony took place at half-time during Stoke City's home game against Cardiff City on Wednesday.
The honorary award, for "exceptional community contributions", comes during the city's 150th anniversary celebrations.
It last time the freedom has been awarded in Stoke was 2006.
'Highest honour'
A motion to approve the awards was passed by a full meeting of Stoke-on-Trent City Council in October.
A spokesman for the authority said the title was "purely honorary" and came with no additional privileges for the recipients.
Stoke City chairman Peter Coates said it was an "enormous honour" for the club.
Jules Bucazacki, commanding officer of the Queen's Royal Lancers, said the regiment was "hugely excited" by the award.
Stoke City Council leader Mohammed Pervez said: "We are very proud of the football club and regiment and this is the highest honour that Stoke-on-Trent can bestow."
The award was last given to former Stoke South MP George Stevenson, in May 2006.