Staffordshire County Council jobs-transfer plan shelved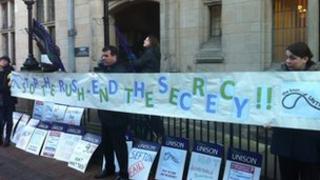 Plans to transfer an extra 300 council jobs in Staffordshire to a private company have been shelved.
Staffordshire County Council had proposed moving human resources, IT and finance staff to a firm jointly run by Capita and the authority.
It said the plan was not currently cost affective. Union Unison said it "was delighted" by the authority's decision.
More than 4,000 staff including school cooks, cleaners and caretakers already work for the company.
'Many questions'
The council's head of finance Ian Parry, said: "It is a complicated picture when you're talking about back office services and to get it wrong can be expensive.
"We went through all the evaluation and then thought we need more time to think about this further rather than taking a risk on doing it willy-nilly."
Unison said it had previously been concerned services were being "privatised by the back door".
Staffordshire branch secretary, Steve Elsey, said: "We have been doing a lot of work with the staff affected.
"Throughout the process, many questions have been asked which have challenged the council's thinking over the viability of outsourcing these services.
"With services maintained in-house, the flexibility remains to tailor services and staffing requirements to the ever changing face of local government."