Newcastle-Under-Lyme Sainsbury's supermarket demolition plan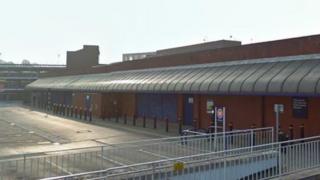 A derelict supermarket which is costing two Staffordshire councils £350,000 a year to maintain is to be demolished.
The former Sainsbury's building in Newcastle-Under-Lyme has been empty for two years.
It was bought by Staffordshire County Council and Newcastle Borough Council who have been trying to sell the site in Ryecroft to developers.
The borough council said it now planned to market it alongside its headquarters in Merrial Street.
Leader Gareth Snell said: "If we're going to be serious about the scale of this development it can't just be the Sainsbury's site alone.
"So if developers do want our offices too we will happily go and find a new home in the town centre somewhere and we will facilitate the larger scale regeneration project for the greater good."
He said borough councillors would discuss the plans later but Staffordshire County Council would also have to agree to them.
The council said the £350,000 it took to maintain the building each year included electricity bills, insurance and business rates.
It said about £175,000 had been recouped from parking charges it had made from keeping the supermarket car park open.
Demolition work could start early next year, it said.