Emma Bridgewater boss appointed CBE at Windsor Castle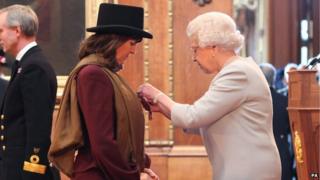 Emma Rice, the founder of the Emma Bridgewater pottery firm, has been appointed a CBE.
She set up the company in Stoke-on-Trent in 1985.
It has seen a boost in sales in recent years, producing commemorative ceramics for the likes of the royal wedding, the Diamond Jubilee and the royal birth.
She received her CBE for services to industry from the Queen at an investiture ceremony at Windsor Castle on Friday.
Ms Rice said: "I do feel very strongly that it's as much for Stoke-on-Trent, the potters... [and] the incredible people who work for us.
"It's an industry that does not need to go off shore."