'Arsonists' started large barn fire in Staffordshire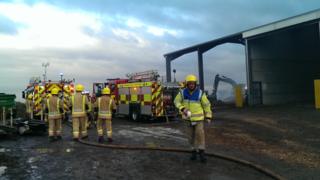 Arsonists are believed to have started a fire which has gutted a large barn in Staffordshire.
More than 30 firefighters were called to the blaze in Bar Hill, Madeley, at 04:00 GMT.
Mark Wilson, from Staffordshire Fire Service, described the blaze as "quite dramatic".
He said it was believed the fire had been started deliberately "by persons unknown" in a pile of tyres outside the barn. No-one was injured.