Stoke-on-Trent City Council to cut 70 more jobs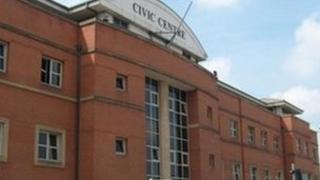 Up to 70 jobs are set to be cut at Stoke-on-Trent City Council as part of plans to save £20m in the next financial year.
In September, the local authority announced it needed to find savings of £100m over the next four years.
Plans, going out to consultation, include freezing council tax and raising fees for parking and leisure.
Leader Mohammed Pervez said the savings targets were set by government and out of the local authority's control.
"Since government cuts began three years ago, the council has reduced its budget by £77m," he said.
"The gap between need and funding is now clearly broken."
The Department for Communities and Local Government has previously said that every part of the public sector needed to "keep doing its bit to pay off the inherited deficit" and added that local government accounted for a quarter of all public spending.
Mr Pervez said the Labour-led council had already identified £4.9m of savings through "effective planning" and promised it would "prudently manage every single penny" to protect frontline services as far as possible.
Alongside the 70 job cuts, about 80 vacant posts will not be filled.
More than 1,000 jobs have already been cut at the council over recent years.
The authority has proposed a restructuring of museums, culture and tourism services, including incorporating the tourist information centre currently at the Victoria Hall within the Potteries Museum and Art Gallery.