Stoke-on-Trent North Labour MP Joan Walley to stand down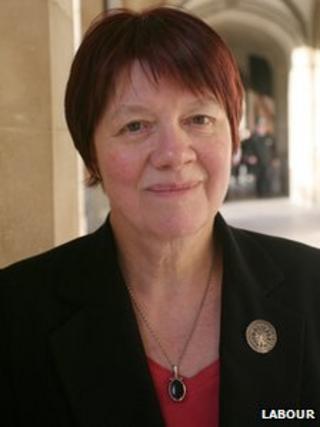 Long-serving Labour MP Joan Walley is to stand down at the next general election.
The 64-year-old ex-shadow spokesperson for transport and for environment, food and rural affairs has represented Stoke-on-Trent North since 1987.
Ms Walley said she would be 71 at the end of the next parliament and 2015 was the right time "to hang up my boots".
Labour leader Ed Miliband said she has been "a first-rate MP" and "parliament will lose a strong voice".
He said: "Joan is a true Parliamentarian. Her work in holding the Government to account on its environmental policies as Chair of the Environmental Audit Committee has been tremendous."
In a letter to her local party, Ms Walley said it was not an easy decision as she felt "as passionately as ever about my work" but "nothing lasts forever".
She said: "Given the demands of constant travelling, working from both the constituency and in parliament, working weekends and long hours, I think that 2015 is the right time for me to hang up my boots.
"Not many MPs have the privilege of representing the area they are brought up in and belong to and I have been privileged to have had the local party's backing to do this since 1987."