Turbulence caused Abbots Bromley light aircraft crash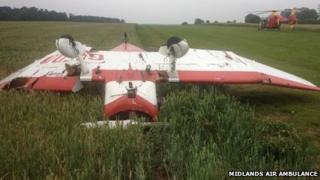 Turbulence caused a light aircraft to crash upside down at an airfield in Staffordshire, an inquiry has found.
Two men suffered minor head injuries in the accident near Yeatsall Lane, in Abbots Bromley, on 10 July.
A report by the Air Accidents Investigation Branch said changes in wind direction and turbulence made flying conditions difficult.
It stated the pilot's "lack of familiarity with the aircraft may also have been a factor".
The investigation found the plane hit two hedges after it was forced down by a "downdraft of air" resulting from turbulence caused by nearby trees.
It flipped over and crashed just short of the runway.
The pilot and his passenger managed to free themselves and walked to a farmhouse for help.
They were flown by air ambulance to the University Hospital of North Staffordshire, where they were treated for minor injuries.