Litter officers in Stoke-on-Trent trial body cameras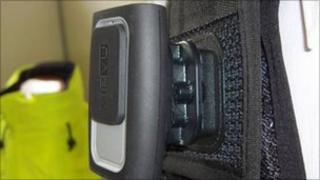 Environmental officers in Stoke-on-Trent have been fitted with body cameras to help them prosecute more people dropping litter and fly-tipping.
The city council said the cameras were being trialled by city centre officers.
Cabinet member for Clean City, Andy Platt, said they had previously been threatened while gathering evidence.
"Body CCTV will mean criminals know their actions will be caught on camera and can be used in evidence against them," he said.
"Gathering evidence is a difficult and sometimes dangerous job. Fly-tippers are people who are essentially anti-social and can be threatening."
Mr Platt said that if the trial was successful the cameras "could be deployed more widely".
The council said cleaning up environmental crimes including dog fouling, litter and fly-tipping cost £21,000 a month.
The authority has investigated about 2,200 complaints this year, giving out 616 fines and taking 124 cases to court.
It also has 10 mobile CCTV cameras, which are used to gather evidence on environmental crimes.
Body cameras were given to more than 1,000 police officers in Staffordshire in February to capture criminal evidence.