Fenton war memorial to be protected from demolition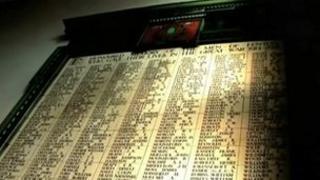 A World War One memorial at risk of being destroyed is to be protected from demolition, the government has said.
The Minton tile plaque is inside the former Fenton Magistrates' Court, which is being sold by the Ministry of Justice (MoJ) for about £500,000.
The government said "a legal covenant" had been agreed meaning whoever buys the building would have a duty to preserve the memorial, built in 1922.
Campaigners said they were worried the covenant "would not be enforceable."
Justice Minister Shailesh Vara told the Commons on Tuesday: "There will be a covenant to ensure that the new owner does preserve that very important and historic monument, which is a tribute to all those who paid the ultimate price in the First World War."
The Save Fenton Town Hall group presented a 10,000 signature petition to save the memorial to Downing Street in October.
It is trying to raise money to buy the building.
'No teeth'
Cheryl Gerrard from the group said she was still worried that the memorial could be destroyed.
"We have had preliminary discussions with legal representatives and I think the reality very well could be that [the covenant] has no teeth," she said.
"The contract will be between MoJ and the purchaser... so how are you actually going to enforce that?"
The MP for Stoke South, Rob Flello, who raised the issue in Parliament, said he wanted to see the court used by the local community rather than standing empty.
"I am still hopeful that we can either persuade the government to give back the building to Stoke-on-Trent or, indeed, if they won't give it back entirely to at least sell it back to us cheaply," he said.
The Ministry of Justice has said it was selling the building for £500,000 to "get best value for the taxpayer".
The magistrates' court, which was built in 1886 as a town hall, closed in December last year as part of government plans to shut 93 courts in England and Wales in a bid to save £41m.
The Great War Memorial, which contains 498 names of soldiers from Fenton, is built into the wall of the court.