Ex-Stafford Hospital chief nurse cautioned for 'putting patients at risk'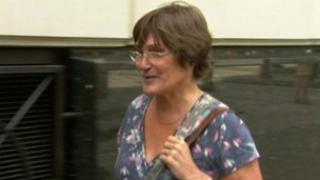 A former chief nurse at Stafford Hospital has been cautioned for putting patients in danger by not ensuring there were enough staff on wards.
Janice Harry failed to make sure there was adequate nursing cover on A&E and two other wards between 1998 and 2006.
Mrs Harry was found guilty of misconduct but allegations that she bullied colleagues were not proved.
A Nursing and Midwifery Council panel found she was still fit to practice but gave her a five-year caution order.
The panel heard that during some night shifts, a single nurse was looking after 17 patients on a ward.
It said Mrs Harry should have been focused on staffing levels but she was distracted by "training, targets and other matters".
'Risk of harm'
In making its decision the panel told her: "You had effectively closed your mind to your direct operational responsibilities and had limited yourself to the strategic role.
"You had the professional responsibility for every nurse in the Trust....you had in the past placed patients at risk of harm."
The panel also reprimanded Mrs Harry for using inappropriate language towards a colleague, after she told her she was a "waste of space".
She was cleared of charges relating to cleanliness and hygiene, inappropriate handling of incident forms, telling staff off, reducing a colleague to tears and disregarding staff concerns.
Mrs Harry was employed by Mid Staffordshire NHS Foundation Trust and its predecessor, Mid Staffordshire General Hospitals NHS Trust, from 1998 to 2006.
She worked as the director of nursing and quality assurance at Stafford Hospital from 1998.
In 2002 she became the director of clinical standards and chief nurse, as well as director of infection prevention and control.