Port Vale Football Club ends Stoke Sentinel newspaper ban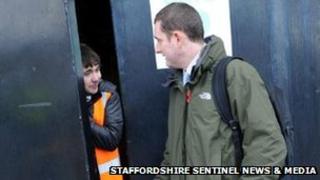 Port Vale Football Club has lifted a ban on its local newspaper reporting from its press box on match days.
The Stoke Sentinel was banned on 26 October by chairman Norman Smurthwaite after it printed an article about former chairman Paul Wildes resigning.
A joint statement from the League One club and the paper said the issue had been resolved following "several days of discussion."
It said the dispute had done "neither party any favours".
The paper said it was first made aware of the ban when its Port Vale reporter Michael Baggaley and a photographer were refused access to the press area for the home game against Gillingham.
'Mutually beneficial'
The Sentinel was also banned from attending any press conferences at the club.
The paper said it was sorry Mr Smurthwaite had been upset at the way confidential information had been handled in a story about the departure of former Vale chairman Paul Wildes.
Port Vale said Mr Smurthwaite now acknowledged information had been used by the newspaper for the good of the club.
The joint statement continued: "We believe Port Vale and The Sentinel are mutually beneficial and that a successful, positively publicised Port Vale is good for our city."