Ex-Stafford Hospital chief nurse 'put patients in danger'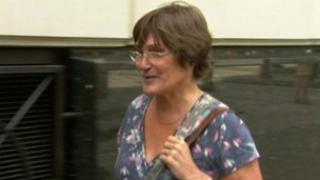 A former chief nurse at Stafford Hospital put patients in danger by not ensuring there were enough staff on wards, a disciplinary panel has found.
The Nursing and Midwifery Council (NMC) panel ruled between 1998 and 2006, Janice Harry failed to make sure there was adequate nursing cover on A&E.
Mrs Harry was found guilty of other charges but allegations that she bullied colleagues were not proved.
The panel is now considering what sanctions to impose.
It found Mrs Harry had failed to make sure colleagues provided patient dignity and privacy in the emergency admission unit (EAU) between 2004 and 2006.
'Waste of space'
She also failed to ensure there was appropriate food and drink in the unit, the panel found.
It said she would also be reprimanded for using inappropriate language towards a colleague, after she told her she was a "waste of space".
Mrs Harry was cleared of charges relating to cleanliness and hygiene, inappropriate handling of incident forms, telling staff off, reducing a colleague to tears and disregarding staff concerns.
Mrs Harry was employed by Mid Staffordshire NHS Foundation Trust and its predecessor, Mid Staffordshire General Hospitals NHS Trust, from 1998 to 2006.
From 1998, she was director of nursing and quality assurance at Stafford Hospital and in 2002 was appointed director of clinical standards and chief nurse as well as director of infection prevention and control.
In earlier evidence to the disciplinary hearing in London, Mrs Harry admitted she could be "intense" at times in her dealings with staff.
She told the panel her manner could sometimes be misinterpreted as aggressive.
"I think I am firm but fair, I know I can be quite intense sometimes if I am passionate about something or care about something," she said.
Mrs Harry also told the panel that despite her title as chief nurse she was not the line manager for any of the hospital's ward nurses and that she oversaw clinical standards across the NHS trust.
The panel will rule later what action to take against Mrs Harry, which could include her being struck off the medical register.