Cheslyn Hay school coach park travellers move on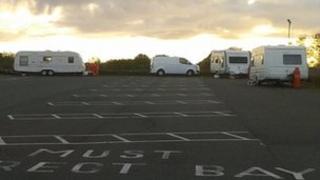 A group of travellers who set up camp on a school coach park have moved on after being threatened with eviction.
Cheslyn Hay community high school in south Staffordshire was shut on Monday after about five caravans and several vehicles moved on to land there last week, the county council said.
The travellers left late on Monday after receiving an enforcement notice.
Councillor David Clifft said he does not know how they got on there as the gates were locked.
Debris is now being removed from the area, he said.
"Unfortunately the coach park will not be in use Tuesday morning while a clear up is undertaken.
"Every effort will be made to open the coach park in the afternoon. "