Protest over Leek day centre closure plans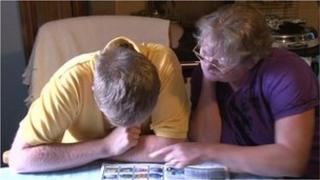 About 50 people have held a protest against the possible closure of day centres in Leek, Staffordshire.
Pauline Hall from Longnor, who cares for her 32-year-old son Daniel, organised the protest which took place in the town.
She said her son, who has behavioural problems, and other people like him would suffer if the day centre shuts.
Staffordshire County Council said closure was only one option. A consultation is open until 14 November.
Council leader Philip Atkins said two other options were being considered, including services being provided by charities, community groups and private companies, not the council.
"The issue is about making sure people don't have to cover large distances to access services," said Mr Atkins.
"It's not about buildings, it's about the service needed and required for them and their carers and we need to make sure people don't fall through the net.
"However, life can't go on as it is, we are all facing changes."
Privatisation 'won't work'
The council runs eight "larger" centres and several other smaller centres, some of which are rented by the council.
Ms Hall said it was vital for both herself and her son that he was able to use the day centre three times a week, which he has done for 12 years.
"The main thing is these people really need a safe and structured environment, the majority of them have got the mental age of a five-year-old," she said.
"The council is considering putting it into the private sector and we don't think that will work."
She added campaigners were worried their children or family members would not benefit from consistent levels of care if the centres were run by private firms.
The protest was the second Ms Hall has organised. A petition has also been started by campaigners.
The council will make a decision on the future of the centres by March 2014.