Stoke Road railway bridge repairs begin after lorry crash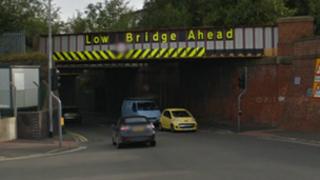 Work has begun to repair a railway bridge in Stoke-on-Trent that was damaged when it was hit by a lorry.
Network Rail said the bridge on Stoke Road, Shelton had moved two inches (5cm) after it was struck on Monday.
It said part of the railway track was damaged and trains had been restricted to speeds of 20 mph over the bridge.
The road under the bridge would be closed to traffic until Monday while repair work was carried out, Network Rail said.
"We're going to be essentially jacking the bridge up and literally moving it back to its original location," said Ben Herbert from Network Rail.
"After that there's a considerable bit of damage we need to repair on the underside of the bridge as well."
He said the majority of the work would be carried out at night to keep disruption to train services to a minimum.
The bridge was struck at about 13:00 on Monday by a lorry which then collided with a car.
There were no reported injuries but some train services were cancelled and others delayed for up to an hour.
Mr Herbert said: "We've tried to make the bridge more visible and improve signage but it's still been struck three times this year. It's very frustrating."