Stoke-on-Trent City Council scraps Civic Centre sale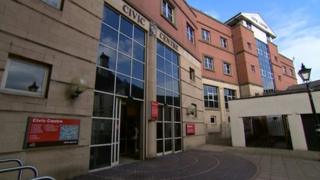 Plans by Stoke-on-Trent City Council to close and sell off its headquarters are to be scrapped.
It had intended to sell the Civic Centre in Stoke as part of a proposed move to a new £45m base in a Central Business District (CBD) in Hanley.
More than 1,000 protesters took part in a march in February opposing plans to close the Civic Centre.
The council said it changed its plans after carrying out a review of its 60 administrative buildings.
Under new plans, about 800 workers will now remain in Stoke and about 1,200 will move to the CBD, the council said.
The authority said the remaining space in the Civic Centre would be leased out to private companies.
The review has recommended selling off 29 council buildings, including Swann House and the town halls in Hanley and Burslem.
'Forced the council's hand'
The council plans to keep 15 buildings and have a "hub" in each of Stoke-on-Trent's six towns so that "people will be able to access some services locally".
The future of the remaining buildings is "undecided".
The plans will be discussed by the council on Thursday and, if approved, a consultation will take place.
Council leader Mohammed Pervez said the proposals would reduce the maintenance costs of its buildings.
"We would not be doing this if we couldn't afford it," he said. "There are different ways of operating to make sure everything stacks up financially.
"By doing this we are able to keep the footfall in Stoke town as well carrying out our aspirations for the Central Business District."
The March on Stoke campaign group organised the protest in February.
Its chairman, Alan Barrett, cautiously welcomed the council's decision not to close the Civic Centre.
"I'm delighted we forced the council's hand but it still begs the question that if we're keeping the Civic Centre why do we need another one in Hanley?" he said.
"If they're building a business district, then business should be paying for it.
"In the end it's us, the taxpayers, who will pay for it."