Fenton WWI war memorial petition handed into Downing Street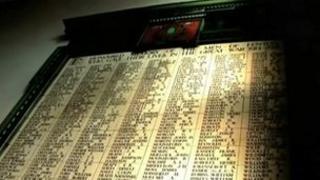 A petition, signed by more than 10,000 people, to save a World War I memorial from risk of demolition has been delivered to Downing Street.
Campaigners want the government to stop the Ministry of Justice selling off the former Fenton Magistrates' Court in Stoke-on-Trent which houses the plaque.
The Minton tile memorial, built in 1922, lists 498 men from Fenton.
The Ministry of Justice (MoJ) said it was selling the building for £500,000 to "get best value for the taxpayer".
Campaigner Cheryl Gerrard was one of about 40 people who made the trip to Downing Street to deliver the petition on Sunday.
She said their request for talks over the future of the building had been turned down despite a letter to Justice Secretary Chris Grayling.
"What we fear is a private commercial developer will buy the building and then demolish parts of it to make it viable - or cut off access," she said.
"We hear a lot from David Cameron about the Big Society, but then you've got them refusing to work with us over a project like this."
Community asset
Fenton community association has said it would consider running the building to restore its ballroom and open a cafe.
Stoke-on-Trent City Council listed the building as an "asset of community value" in August blocking any potential sale until February 2014.
A spokesperson for Her Majesty's Courts and Tribunal Service, part of the MoJ, said it had applied for that decision to be reviewed.
They said: "The government has a duty to sell this property in order to provide taxpayers with the best value for money.
"We have submitted an application for a review of Stoke-on-Trent City Council's decision to list the former Fenton Town Hall as an Asset of Community."
The Magistrates' Court, which was built in 1886 as a town hall, closed in December last year as part of government plans to shut 93 courts in England and Wales in a bid to save £41m.