Birmingham firefighters hurt in Hall Green tree crash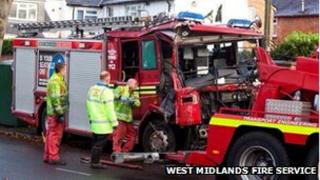 Four firefighters were injured when their fire engine hit a tree.
The vehicle was on its way to an emergency call when it hit the tree in Hall Green, Birmingham.
One crew member hurt his leg and another had injuries to his wrist. The other two are thought to have less serious injuries.
The accident took place near the junction of Robin Hood Lane and Highfield Road shortly before 07:30 BST.
Crews from other fire engines helped to move an injured colleague from the engine, West Midlands Fire Service said.
All four were taken to the Queen Elizabeth Hospital. No-one else was involved in the accident.
The original call turned out to be a false alarm, a service spokesman said.
Three of the firefighters have now been released from hospital, while the fourth man is still being assessed and may remain in hospital overnight, the spokesman added.