Burslem regeneration project next stage gets under way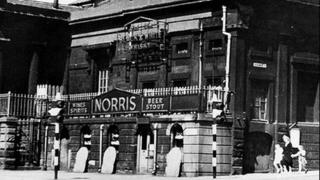 A £1m project to rejuvenate three unused buildings in Burslem, in Stoke-on-Trent, is due to begin this week.
The Burslem Townscape Heritage Initiative (THI) has helped restore more than 60 properties since 2000.
The work is part of a plan funded by private owners, the THI and the Heritage Lottery Fund (HLF).
The latest buildings are an empty property in St John's Square, the 1934 Co-op building in Queen Street and the Leopard Hotel in Market Place.
Since 2007, £4m has been invested in Burslem as part of the THI.
Ruth Rosenau, Stoke-on-Trent City Council cabinet member for regeneration, said: "Although much good work has been done to enhance the appeal of Burslem, there is still more to do and this is the chance for people to get help with essential repairs to their property."
The city council has said the HLF grant would also be used to attract new businesses into renovated properties and increase footfall in the town.