Drayton Manor Theme Park co-founder Vera Bryan dies aged 96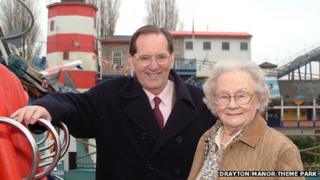 A co-founder of Drayton Manor Theme Park has died at the age of 96.
Vera Bryan first arrived at the 80 acre (32 hectare) site near Tamworth, Staffordshire, exactly 64 years ago, a year before the attraction opened.
Her husband, George Bryan, who died last month, had bought the site for £12,000.
Mrs Bryan, a mother-of-three, grandmother and great-grandmother, died earlier at Good Hope Hospital in Sutton Coldfield.
'Inspiration to all'
A spokesperson for the theme park said she "dedicated her life to Drayton Manor and her family" and for decades the couple worked side by side "transforming the small attraction into a major national tourism destination".
The spokesperson said Mrs Bryan began working at the California-in-England pleasure park in Berkshire, which was owned by her father, after she left school at the age of 14.
By 1935 she had taken over the running of the tea shop there.
During World War II Mrs Bryan worked in a factory manufacturing aircraft parts, after the restaurant at the pleasure park had been converted into the plant.
The couple married in 1942 and first arrived at the Drayton Manor site on 16 October 1949.
The spokesperson added: "From organising the catering and supervising staff, to making curtains and other furnishings for the tea rooms and restaurant, Mrs Bryan was an inspiration to all."