Stoke-on-Trent £1 homes: New owners get first look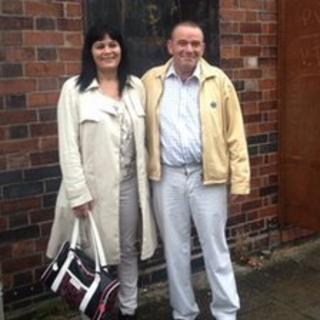 Owners of homes being sold for £1 in Stoke-on-Trent have been getting their first look inside the properties.
The city council put 33 homes up for sale in a bid to revamp the Portland Street and Bond Street areas. The houses had faced demolition.
Successful applicants have been offered £30,000 loans to complete essential repairs, which must be carried out.
The new owners said they were pleased with the homes and said it was the only way they could afford to buy a house.
Bus driver Lawrence Poxon, 47, only discovered on Thursday he was eligible for a house.
He and his wife, Teresa, will find out on 26 October which one they will be allocated.
"You haven't got to scrape and save and worry about the rent or worry if the landlord will sell the home," he said.
"If it's going to fail, it will be down to the people who are here, but really I think it's going to work."
'More passion'
One of the first new owners, Rachel Roberts, 31, said there were "two decent sized bedrooms" in her house in Rutland Street.
Work on her property starts next month and she reckoned she could move in at the end of March.
Her great-grandparents lived in Rutland Street and her father is from Denbigh Street - another of the roads in the scheme.
She said: "At first it sounded too good to be true. It always seems like there's going to be a catch, but there isn't.
"I love this city and want to do whatever I can to help it.
"It's about bringing more passion to the area and that's what I hope we will all do here."
The full handover for the properties is not expected to be completed until the spring.
Anyone who works in the city, has lived there for three years and owns no other properties was invited to apply.
In return, they were asked to commit to living in the area for five years and to bring the homes up to modern standards.
Neil Watson, environmental health officer with the city council, said: "The ultimate goal here is to stabilise the once failing housing market and encourage owner occupancy which are the bedrock of stability in any community."
The city council's £3m scheme has been part-funded through a government grant to bring the properties back into use.
Many of the houses now owned by the local authority were bought from private owners and were due to be demolished under the Pathfinder programme, which was scrapped in 2010.
The application process started in April. Most of the properties are two-bedroom houses, although some are three-bedroom.
A Stoke-on-Trent City Council spokesman confirmed 20 of the houses had now been signed over.
More than 600 people originally expressed an interest in the properties.