Badger bovine TB vaccinations begin in Staffordshire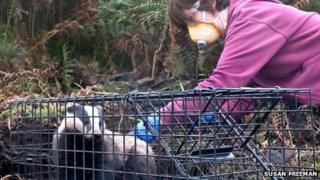 A wildlife charity has started a five-year badger vaccination programme in Staffordshire which aims to help stop the spread of bovine tuberculosis (TB).
Staffordshire Wildlife Trust is carrying out the vaccinations on two of its nature reserves.
The trust said it was against the cull of badgers because it believed "it would cause TB to spread more widely."
Dr Sue Lawley from the trust said vaccinating badgers was the "next best step" to vaccinating cattle.
She said the trust was aware that disease caused "huge economic hardship and distress to the farming community" and something should be done to control the spread of TB in cattle.
"The Wildlife Trusts have been lobbying the European Commission to change regulation relating to cattle vaccination, but until [one] becomes available, we believe that next best step is to vaccinate badgers against the disease."
The programme sees badgers trapped overnight, vaccinated and released with a colour mark to allow researchers to estimate the percentage of animals treated.
In the neighbouring counties of Cheshire and Shropshire, the local wildlife trusts are one year into a five-year vaccination scheme targeting an area across the counties' border.
On Monday, a licence was granted to extend the badger cull in Somerset until 1 November, after the firm carrying out a six-week trial asked for more time to fulfil a target of killing 70% of badgers in the west of the county.
Environment Secretary Owen Paterson and the National Farmers Union have said culling badgers is the most effective way of controlling TB in cattle.