Brocton WWI model battlefield excavation completed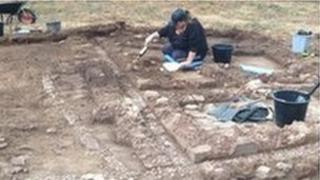 Archaeologists have completed the excavation of a scale model of a World War I battlefield in Staffordshire.
The mock-up of the village and surrounding area of Messines in Belgium was built in Brocton on Cannock Chase as a training aid for soldiers.
It was also maintained as a memorial to soldiers who died in the Battle of Messines Ridge in June 1917.
County Council archaeologists have now begun photographing and using a laser-scanner to make a 3D computer model.
Features that were uncovered during the dig included replicas of bombed buildings, cobbled roads and German fighting trenches.
'Too fragile'
Staffordshire County Council leader Philip Atkins said: "It has been incredible to see the scale and absolute detail of the Messines model.
"The team has done an amazing job in bringing the Messines back 'to life' and will help the legacy of the men who served at Brocton camp is remembered for generations to come."
The council said the model would have to be reburied because it was "too fragile" to be moved or left uncovered.
The model was built by German prisoners of war at Brocton Camp in 1918 under the supervision of the New Zealand Rifle Brigade.