Men spend six days in plastic box outside Asda in Stoke-on-Trent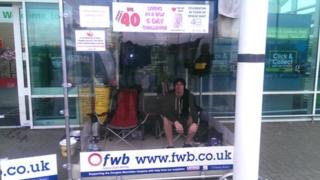 A personal trainer has spent nearly a week living with a friend in a giant plastic box in a supermarket car park.
Richard Stonier, 29, spent six days in the 7ft by 7ft (2mx2m) container with Carl Heaton, outside the Asda on Scotia Road in Burslem, Stoke-on-Trent.
The friends are trying to raise £40,000 for Douglas Macmillan Hospice, which cared for Mr Stonier's late mother.
"It's been a surreal experience. People came from all around the city to see us, it was really touching," he said.
The men only left the container for toilet breaks.
Mr Stonier, who is from Stoke-on-Trent, said: "We collected £7, 658 from people's donations at the store but some money is outstanding so we should be touching the £9,000 mark."
It is the latest of 40 challenges Mr Stonier is taking on to raise funds for the Douglas Macmillan Hospice.
His mother Diane died of cancer in December and her son's fundraising coincides with the 40th anniversary of the charity.