Meaford gas-fired power station plans unveiled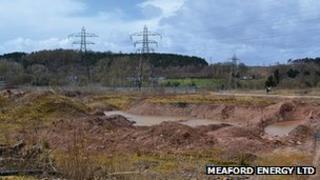 Plans to build a gas-fired power station in Staffordshire have been unveiled.
The 30-acre development could be built on the site of the former coal-fired Meaford Power Station, near Stone, which was demolished in 1996.
Meaford Energy Ltd, which is a branch of property developer St Modwen, said it could power about 500,000 homes.
It has launched a public consultation into the plans which it said would need approval from the government.
The plans for the station will be exhibited in Stone on Thursday and Barlaston on Friday to get local people's views.
Rupert Wood, from Meaford Energy, said: "There is a need to build new efficient power stations that can work in conjunction with the renewable wind farms and solar farms going up around the country."
The company has estimated 800 construction jobs would be created, with a further 30 staff needed to run the plant when it becomes operational.
It said the final proposals would need approval from the secretary of state for energy and climate change but it would be a number of years before building work could start.