Plans to turn disused Wedgwood Memorial college into a ceramics centre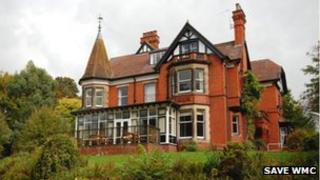 Plans have been submitted to turn a disused college building into a specialist ceramics centre.
The Save Wedgwood Memorial College (SWMC) group wants to offer education courses in pottery and design at the building in Barlaston, Staffordshire.
Stoke-on-Trent City Council shut the college in April 2012 as part of £24m cuts to its budget.
The authority spent £160,000 making the site secure last year and said it would consider any bids to take it over.
Former principal of the college, Derek Tatton, wants the council to agree to give the SWMC group the building as part of a community asset transfer (CAT).
'Potential to thrive'
The government introduced CATs to enable the public sector to transfer ownership and management of assets to the community so they can privately run them.
Mr Tatton said: "We want to turn the college into a specialist ceramics centre to teach people skills and also work with local pottery firms so they can use it for business and training.
"The alternative is the building will continue to cost £3,000 a week of taxpayers' money which is a drain when it has the potential to be thriving."
He said the group was looking at "various sources of funding" to help pay for the running of the centre.
The city council said it had previously rejected plans by the SWMC group because they were "unsuitable" but said any further bids would be considered.