Stafford Hospital consultation gets 2,800 responses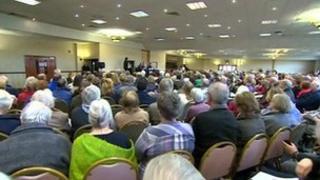 A consultation into the future of healthcare services in Staffordshire has had more than 2,800 responses, administrators have said.
The Mid Staffordshire NHS Trust went into administration in April after a report for health watchdog Monitor said services were "unsustainable".
Trust Special Administrators (TSA) want to move some services from Cannock and Stafford hospitals to nearby trusts.
The plans have been criticised by healthcare groups and local people.
Under the TSA's plans, maternity patients and seriously ill children would no longer be treated at Stafford, while its critical care unit would be downgraded and some emergency surgery lost.
In addition, Stafford Hospital would be part of the University Hospital of North Staffordshire in Stoke-on-Trent while Cannock Hospital would become part of the Royal Wolverhampton Trust.
TSA Alan Bloom said they had spoken to about 2,600 people at eight public consultation meetings and received a total of 2,800 responses during the eight week consultation.
"We are considering these responses in our drafting of our final recommendations which will be delivered to Monitor on 22 October," he said.
The TSAs said Monitor would publish its plans to the Health Secretary, Jeremy Hunt, who would make a final decision on the plans by 31 December.